The Griffco Valve Experience
Griffco
Chemical Feed Equipment
Griffco is your source for every accessory for your fluid handling system
Products include back pressure valves, pressure relief valves, pulsation dampeners, calibration columns, injection valves, corporation stops, gauge guards, y-strainers and other chemical feed accessories.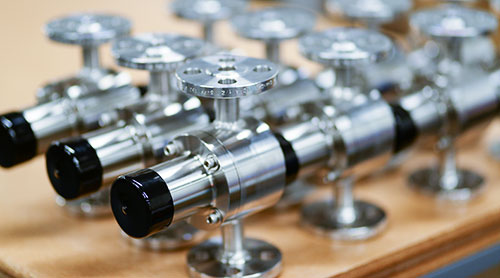 Privately held, Griffco was established in 1992 and is located in Amherst, NY. All products Griffco manufactures are proudly made in the USA. Griffco is NSF, CE, and ISO 9001 certified.
Griffco works with the best material suppliers, sourcing locally whenever possible, and employs talented, experienced professionals who work to exceed our customers' and channel partners' highest expectations.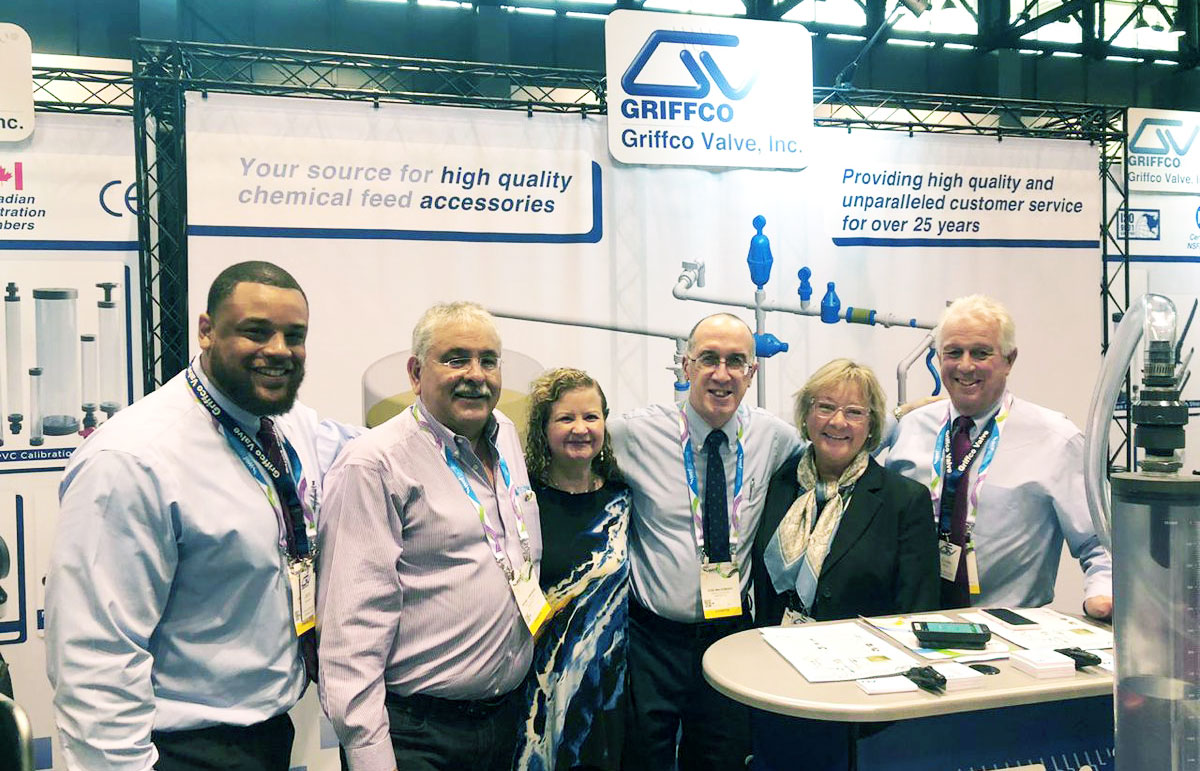 Griffco works with the best channel partners across many industries to reach our global network of customers. To ensure product availability and premier performance, most of these partners are factory trained and stock many of our products for your convenience.

Griffco has produced more than a million valves and other system accessories since its establishment in 1992
With such a large installed base, is it critical that customers know where and how to get the best product, right answers, and trusted support.
Griffco sells its products all over the world; using a distribution network, private label agreements, and OEM accounts. 
Griffco enjoys corporate agreements with a majority of leading positive displacement pump companies, supplying custom branding and part numbers where requested. This allows us to deliver, support and ensure proper pump and system operation. These companies understand and trust Griffco to consistently be best in class and deliver quality, affordable products in a timely manner.
Griffco Valve Experience
Griffco's many years of experience in manufacturing and supplying quality pumping system accessories for a wide range of applications and markets across many pump technologies has made them the brand to trust. Customers count on Griffco for unsurpassed product  performance, personal and knowledgeable customer sales and service and for ensuring their systems operate at the highest possible standards.
Customers have always counted on the high quality, great customer service, and reliable shipments that Griffco provides.
The pump companies understand and trust Griffco to be the best in class and to always deliver.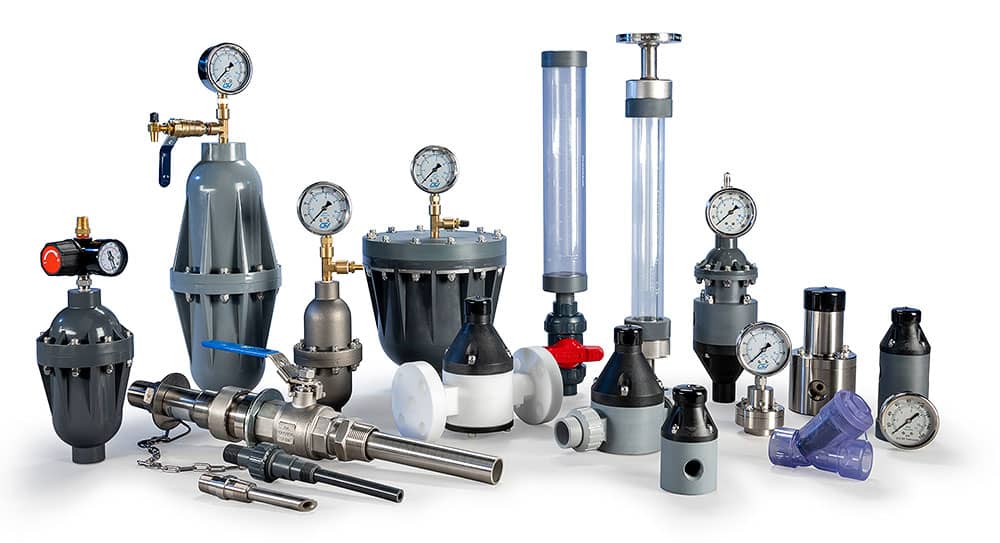 Griffco offers Back Pressure Valves, Pressure Relief Valves, Pulsation Dampeners, Calibration Columns, Injection Valves, Corporation Stops, Gauge Guards, Y-Strainers and other Chemical Feed Accessories.
"Wanner Engineering has relied on Griffco Valve as a trusted supplier for more than 15 years. Griffco has always produced quality products that provide the best value in the industry. Wanner Engineering has partnered with Griffco as an essential partner providing valve and fluid handling accessories for our pump products because of their excellent product quality and exceptional technical and sales support."
"A high quality, reliable accessory line for a demanding sector, supported by excellent service and support."
"Patti and her team at Griffco Valve have proven over the years, time and time again, why they are one of our highest rated suppliers; from the top quality products to their exceptional customer service and support. We are thankful to have such an outstanding company on our team."
"I have been using Griffco products for over 13 years now and the products they supply are excellent. On time delivery, pricing and support are spot on. Griffco has even supplied engineering and new product development support. Well done Griffco."
"Excelente calidad y servicio #ARyATeam"
"We love working with Griffco. Not only are their products robust and reliable, but they are quick to respond, quick to ship and quick to find solutions."
"Our partnership with Griffco extends over 25 years and we can truly say, that Griffco is our most dependable and valued vendor. Their team members are extremely knowledgeable and efficient in all aspects of their company. They are all honestly friendly and always willing to help with technical applications, production and any questions associated with paperwork. It is with pleasure that we would endorse a working partnership with Griffco Valve, Inc. and recommend their high quality products."
"Griffco Valve is a company committed, that provides products of the highest quality, with great service and lead times. We are proud to be their distributors."
"Griffco Valves allow us to guarantee the safety that our chemfeed systems offer to our customers, because of their reliability and ease of installation."
"Preferimos Griffco por su Excelente Calidad y Resistencia"
"Griffco Valve has exceeded my expectations for years with continued top quality customer service and an excellent line of products. Griffco's excellence will ensure the growth of our business for years to come!"
"Valves and accessories manufactured by Griffco allow for high quality of the chemical dosing skids that we manufacture. Griffco's product reliability is excellent, and so is their customer service. In some products they have adapted their fabrication to our needs. Without a doubt, a product that we recommend."
"Una línea de accesorios de alta calidad, confiable para una industria muy exigente, amparada por un muy buen servicio, soporte y apoyo."
"Working with Griffco has been a seamless effort as they are a true partner to their distributors. Any urgent requests are always handled on the spot and the customer support exceeds expectations. It is a true pleasure to work with Griffco on a daily basis and their product quality is the industry standard in chemical metering."
"Excellent quality and service #ARyATeam"
"Griffco guarantees safety in our chemical dosing systems, and allows us to deliver reliable solutions to our customers."
"Griffco Valve es una empresa comprometida que brinda a sus clientes servicio, soporte y entregas puntuales, con productos de la más alta calidad. Nos enorgullece formar parte de su grupo de distribuidores."
"Las válvulas de alivio Griffco nos permiten garantizar la seguridad que ofrecen nuestros sistemas de dosificación a nuestros clientes, gracias a su confiabilidad y facilidad de instalación"
"Las válvulas y accesorios fabricados por Griffco nos aportan alta calidad a los sistemas de bombeo que fabricamos. Su fiabilidad es excelente y contamos con un servicio de atención al cliente magnífico. En algunos productos han ajustado su fabricación a nuestras necesidades. Sin duda es un producto que recomendamos."
"We have been lucky enough to be a Griffco Distributor for over a Quarter of a Century, and in that time they have NEVER let us down. Griffco is simply the highest quality made American products, and far superior in service to all others."
"I have been using Griffco products for the past 9 years and couldn't be happier with their equipment. Our company is built on quality and service so we need equipment that backs that up and Griffco does."
"Griffco nos garantiza seguridad en nuestros sistemas de dosificación y nos permite brindar confiabilidad a nuestros clientes finales."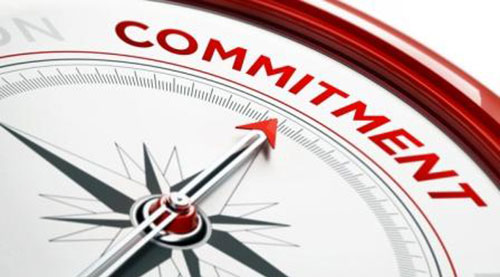 The Griffco Commitment to You
Griffco strives to provide exceptional service and value to all its customers and employs talented professionals to ensure customer satisfaction.